---
The Main Hall and the MG Meeting Room
---
The hall dimensions are approx 7.3 x 14.9 m (24 x 49 feet), it is well-lit and heated by electric radiant panel heaters.
We are particularly proud of the restored parquet flooring - great for all sorts of activities!
Entry to the hall is can be through the central front doors (note the low step up) or,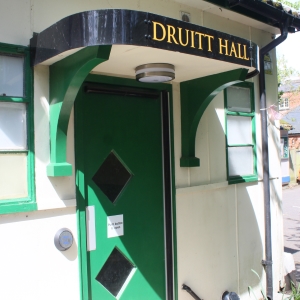 for completely level access, use the power-operated door, just around the corner facing the gardens.
Both the main hall and the meeting room are entered from the large entrance lobby (2.4 x 4.9 m - approx 8 x 16 feet) off of which are also modern male, female toilets and wheelchair-accessible WC.
The rear double-doors (facing onto Druitt Gardens) can also be opened for level access to avoid passing through the lobby.
The hall hire includes use of the kitchen (details below), 27 assorted-size tables (3ft to 6ft), 40 stacking chairs and 40 folding chairs
We also have available a modern meeting room
At appprox 3 x 4.8 m (10 x 16 feet) this room will accommodate 8 people comfortably (10 is 'cosy').
Currently used for one-to-one meetings, committee meetings, discussion groups and so forth.
The room is provided with a boardroom-style table and ten chairs and is accessed independently of the main hall through the entrance lobby.